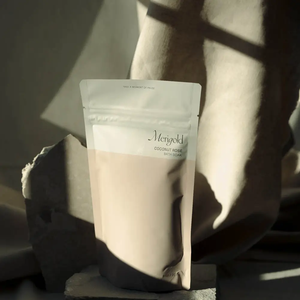 Coconut Rose Bath Soak
Regular price
Sale price
$22.00
---
Introducing our indulgent Coconut Rose Bath Soak, a luxurious blend of natural ingredients designed to transform your bath into a soothing and rejuvenating spa experience. Immerse yourself in the delicate scent of roses and the tropical essence of coconut, as this exquisite bath soak envelops your senses and nourishes your skin.
Exquisite Fragrance: The captivating aroma of fresh roses infused with the sweet essence of coconut creates a truly enchanting bathing experience. Let the delightful scent transport you to a serene oasis of relaxation.

Natural Ingredients: Crafted with care, our Coconut Rose Bath Soak contains a harmonious blend of all-natural ingredients. We prioritize quality and source the finest coconut oil, rose petals, and other botanical extracts to ensure a truly luxurious and gentle bathing experience.

Skin Nourishment: Immerse yourself in the replenishing benefits of this bath soak. Coconut oil deeply moisturizes and hydrates your skin, leaving it feeling supple and silky smooth. The gentle caress of rose petals helps to soothe and rejuvenate, giving your skin a healthy, radiant glow.

Stress Relief: Unwind and let the stress of the day melt away as you submerge yourself in the calming waters infused with Coconut Rose Bath Soak. The soothing properties of roses and coconut work together to relax your body and mind, promoting a sense of tranquility and well-being.

Spa-like Experience: Transform your bathroom into a luxurious spa retreat with our Coconut Rose Bath Soak. Create an ambiance of relaxation by dimming the lights, playing soft music, and lighting candles. Treat yourself to a pampering session and emerge refreshed and rejuvenated.

Easy to Use: Simply add a generous amount of the Coconut Rose Bath Soak to warm running water and watch as it dissolves, releasing its enchanting fragrance and nourishing properties. Immerse yourself in the fragrant bath and indulge in the luxurious experience.
Elevate your bath time ritual with the Coconut Rose Bath Soak and indulge in the captivating scent and rejuvenating properties. Treat yourself or surprise someone special with this exquisite product that combines the tropical allure of coconut with the timeless elegance of roses. Immerse yourself in pure luxury and enjoy the benefits of this pampering bath soak.